Swing for Hope Golf Tournament
Date And Time
October 21, 2022 | 11:39 AM
Cowboys Golf Club
1600 Fairway Drive
Grapevine, Texas 76051
Swing for Hope Golf Tournament is a charity event to help build awareness of domestic violence.
TMWF will host its first Golf Tournament in the Metroplex in lieu of their 2021 Annual Gala.
Join us for the Inaugural Swing for Hope Golf Tournament benefiting the programs of Texas Muslim Women's Foundation.
This event is hosted by the TMWF Golf Committee:
Mr. Yousuf Ali, Mrs. Kiran Asma, Mr. Tahir Farrukh, Mr. Afiz Hudani, Mr. Kamran Quddusi, Mr. Anwar Masood and Mrs. Almas Muscatwalla
For questions regarding sponsorships, please email the TMWF Office by clicking Contact Event Organizer above.
Can't make it to the event? Please consider a tax deductible donation to TMWF. As a non-profit organization, our goal is to maintain the lowest fees possible. Your donation will be greatly appreciated.
Refund Policy: No Refunds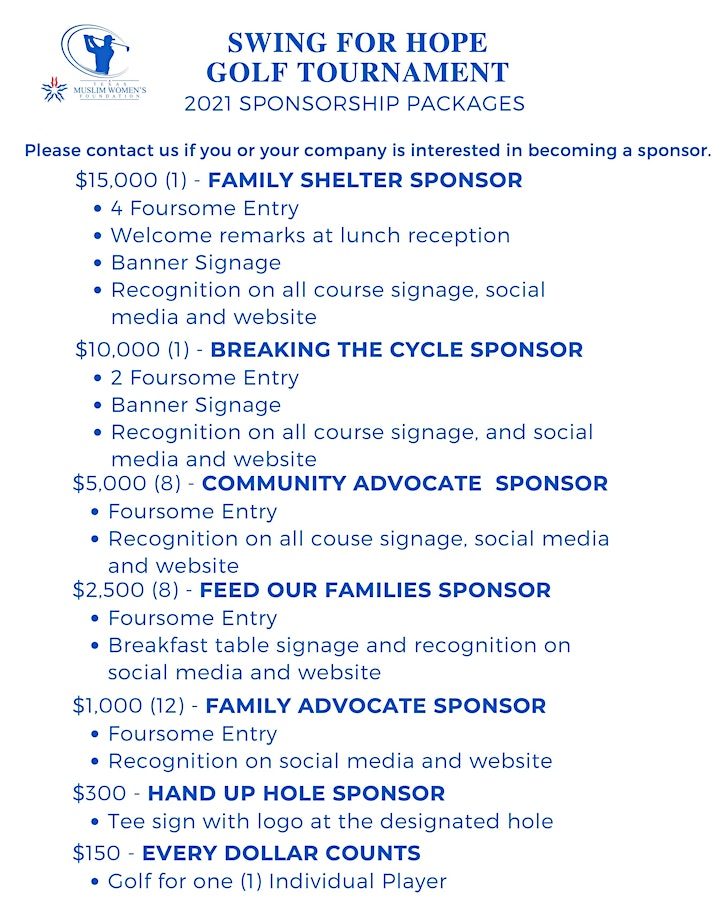 Location
Cowboys Golf Club, 1600 Fairway Drive, Grapevine, Texas 76051